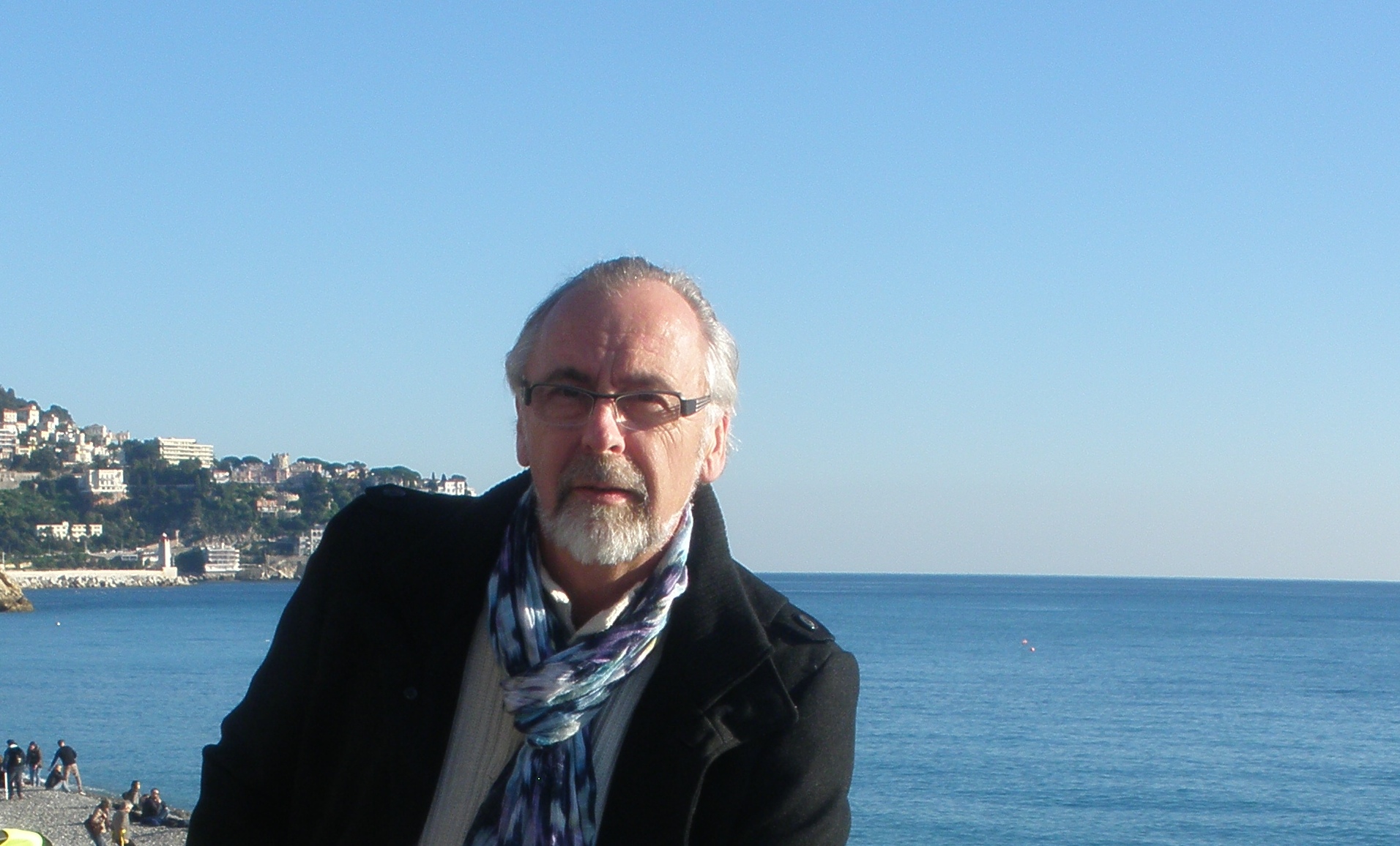 FRANK ERIC ZEIDLER is an artist from Vancouver, Canada now living on the Côte d'Azur. His paintings and works on paper evoke a world of visual poetry, creating metaphors for love, the soul, and the human condition.
Biography
I was born to German parents in Winnipeg, Canada in 1953. My mother was an artist who had studied with the German painter Reinhold Ewald. In 1956 our family moved to Vancouver, where I grew up. From an early age I was convinced  that I was to become an artist and received my first lessons from my mother who told me that if you can draw the human figure you can draw anything at all. In 1971 I enrolled at the University of British Columbia to study art, eventually pursuing further studies in Vienna, Winnipeg, and then back in Vancouver where, under the tutelage of the renowned Canadian artist Gordon Smith, I earned a degree in Art Education.
A future as an art teacher was not for me though. I went to work instead, employed with various engineering firms in Vancouver. So began a long period of work, painting and travel. In the early 1980's I turned to drawing as a way of finding the source of creativity. My images, derived from my imagination, evolved steadily from a minimal, primitive aesthetic toward a depiction of people and environments with a strong poetic sensibility. During a trip to France in the spring of 1988 to meet with my future wife Nadine, I caught a glimpse of Nadine with "a palm tree growing out of her head". This vision provided a link between the individual and the environment and it was this essential connection between person and earth that laid the groundwork for my rebirth as an artist.
The results of that visionary breakthrough slowly bore fruit. I started carving figures out of paper, developing a characteristic silhouette shape, which became the base of my work. The negative/positive nature of these cut-outs allowed for the formulation of a metaphor describing the essential unity of figure and environment. This unity is aptly illustrated by the presence either of vegetation infiltrating the body or of the body developing roots and leaves which in turn infiltrate the ground. Developed as collages, these figures established the fundamentals of my unique and original artistic expression. This achievement was heralded in an exhibition of collages in 1998.
Further developed as paintings, my figures were combined with new methods of applying paint. This enabled me to modify the underlying metaphor to include the concept of spirit and body, opening the ensuing images to a greater range of interpretations, and culminating, in 2005, in a successful exhibition of large scale painting, demonstratingmastery of my craft and my maturity as an artist. Since then my art has continued to grow and the range of expression to broaden.
In 2011 the inauguration of the Drawing of the Day on my website has provided me with an ongoing platform for the evolution of what I call visual poetry, the results of which are poised to be expressed in painting.
In 2014 my wife and I relocated to Grasse, France, where I have re-established my studio and resumed my artistic activities; drawing, painting, and exhibiting.
Website:             www.frankzeidlerart.com
E-mail:                 frankericzeidler@gmail.com
University Studies
1971-73             Fine Arts, University of British Columbia – Vancouver, Canada
1974-75              Akademie der Bildende Kunste – Vienna, Austria
1975-76              Fine Arts, University of Manitoba – Winnipeg, Canada
1976-79              Graduate, Bachelor of Art Education,University of British Columbia – Vancouver, Canada
Exhibitions
1979                     Danish Art Gallery – Vancouver, Canada
1983                     Inform Gallery – Vancouver, Canada
1984                     Vancouver City Hall – Vancouver, Canada
1985                     Grace Gallery – Vancouver, Canada
–                             Klee Wyck – West Vancouver, Canada
–                             Grace Gallery – Vancouver, Canada
1990                      Grace Gallery – Vancouver, Canada
–                              Vancouver Art 90 – Art fair – Vancouver, Canada
–                              Lions Bay Art Exhibit – Lions Bay, Canada
1991                       Alliance Française – Vancouver , Canada
1992                       Mocha Café – Vancouver, Canada
1993                       Library Square Artistamp Project – Vancouver , Canada
1994                       Kiwasa House – Vancouver, Canada
1995                       Artropolis – Vancouver , Canada
1996                       Simon Patrich Gallery – Vancouver, Canada
1997                        Eccolage, Mecca – Vancouver, Canada
2005                        Simon Patrich Gallery – Vancouver, Canada
2008                        Living With Art, Hudson's Bay Co. – Vancouver, Canada
–                                Swirl Fine Art & Design Gallery – Calgary, Canada
–                                 North Van Community Arts Council – North Vancouver, Canada
2009                         Federation of Canadian Artists (FCA) – Vancouver, Canada
–                                 North Van Community Arts Council – North Vancouver, Canada
–                                 Leighdon Studio Gallery – Vancouver, Canada
2010                          Leighdon Studio Gallery – Vancouver, Canada
2011                         Seymour Art Gallery – North Vancouver, Canada
–                                 North Van Community Arts Council – North Vancouver, Canada
–                                  Federation of Canadian Artists (FCA) – Vancouver, Canada
2012                           U8 Group Show Sopa Gallery – Kelowna, Canada
–                                   Brushstrokes Gallery – Vancouver, Canada
–                                   Théâtre Toursky – Marseille, France
2015                           Exposition « Monaco-Japon » – Auditorium Rainier III – Monaco
–                                   Solo exhibition Comité AIAP – UNESCO – Monaco
–                                   Expo  « Harmonie » Chapel Ste. Marguerite – Cabris, France
–                                   Salon Arte3F – Paris, France
2016                           Exposition « Monaco-Japon » – Auditorium Rainier III – Monaco
–                                   Denis Durand – Cannes, France
2017                          Exposition « Monaco-Japon » – Auditorium Rainier III – Monaco
–                                   La Vague de Saint Paul – St. Paul de Vence, France
–                                  Exposition AIAP Salon 2017 « Étre Humain » – Monaco
2018                          Exposition « Monaco-Japon » – Auditorium Rainier III – Monaco
–                                   Galerie Mona Elizabe – Vallauris, France
–                                  Hôtel de Mougins – Mougins, France
–                                  Galerie La Quincaillerie d'Art – Nice, France
–                                  Exposition AIAP Salon « Experience Artistique » – Monaco
Afiliations
Galerie du Faune – Antibes
Boutique La Creative – Biot
Member Artist of the Comité AIAP (Association Internationale des Arts Plastiques) UNESCO de Monaco
Prize
2009                             Federation of Canadian Artists (FCA) – 2nd prize – jury – Vancouver, Canada